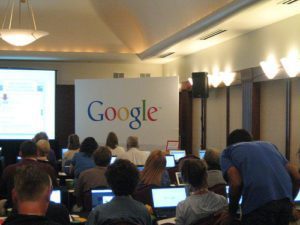 In July, Dojo Digital attended a seminar for Maine's small businesses who want to get online put on by Google.
Google commissioned an independent study on small businesses and the internet this year, and its results are somewhat staggering. Combine these findings with statistics from Small Business Administration and a study from Boston Consulting Group, these are some of the numbers that really jumped out at us:
59% of small businesses in Maine do not have a website
Last year small businesses with an online presence grew 40% faster than those that aren't online.
According to Google, 97 percent of consumers look online for local products and services.
In 2013 more websites will be viewed on a mobile device rather than a computer.
Sen. Olympia Snowe, R-Maine visited to search engine and media giant known as Google last year, the result was her bringing them to Portland to put on this workshop. Attendees were given the the chance to listen to Google's marketing director, Scott Levitan give a presentation on the importance of an online presence and how best to utilize it.
So why would a small business in Maine not have a website?  Google's study finds small business owners think it's hard, it's expensive, and it takes a lot of time.
"So if we can change the perception that getting online is hard, expensive and time consuming, we can get businesses online and we can get them growing,"

-Google's marketing director, Scott Levitan
Sources: